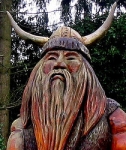 The annual United Nations Human Development Index has been released today (Monday 5th of October).

According to this index, based on such criteria as life expectancy, literacy, school enrolment and gross domestic product (GDP) per capita, Norway is the best place to live in.

Surprise: old and rusty France returns to the upper echelons by moving up three places, from number 11 to number 8.
Last year, the USA was 12 and France 11, now the US ranks 13th and France 8th.

Sure US nationalists won't love the United Nations any better after such a disapointing ranking...

Religion factor
Consolation for them: there is still a long way to go for China (n°92), although its ranking is improving.

As far as religion is concerned, let's notice that the top four (Norway, Australia, Iceland and Canada) relate to a protestant identity.

What Max Weber would say of that?


Last but not least, what about the UK? Well, number 21 is not very flattering. Time to kit binge drinking maybe ? :)