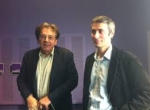 Not always easy to have access in English to all French scholarly work!
Let's praise the The Observatory for Religious Phenomena (World Religion Watch) for its focus on providing resources in English. This French-based group was founded in 1992, within the framework of a research contract, under the guidance of Bruno Etienne, emeritus Professor at the Institute of Political Studies. It is now led by Professor Raphael Liogier.
After having obtained the status of "seed team", it has since acquired ongoing impetus as a widely acknowledged study group focusing on the sociology and political analysis of religious phenomena. Website here.