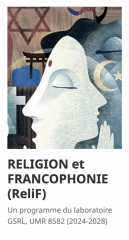 A GSRL program led by Pascal Bourdeaux and Sebastien Fath (GSRL)
321 million people worldwide are able to express themselves in French (OIF data 2023).
From a social sciences perspective, these French-speaking spaces lead us to think differently about religious interaction and dynamics. The French-speaking global framework (including Africa, Americas, Asia, Carribean isles, Pacific islands....) invites to reshape analysis beyond a hexagonal prism (French-centered) that remained hegemonic for long.
Deploying the analysis of religion in society in this French-speaking and postcolonial space-time, such is the purpose of this program "Religion and Francophonie (French-speaking world)".
To think about contemporary religious recompositions in Francophonie since the 19th century is to subscribe, on the one hand, to a change of scale, broadening the focus to embrace the diversity of French-speaking spaces,religious social capital, often marked by the colonial fact.
It means adopting, on the other hand, an epistemological decentering, by questioning some scientifical legacies resulting from the industrial revolution and the "colonial moment", through a reevaluation of the conceptual and empirical productions from the "global south".
This is why this program carried by the GSRL (UMR 8582) is articulated in two poles, "Memory and resilience" (led by Sebastien Fath, GSRL, and "Epistemological and theoretical issues" (led by Pascal Bourdeaux, GSRL).
Link to know (much) more (in French)