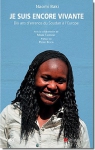 This is a book to remember. In Je suis encore vivante (transl, "Still Alive"), Mrs Naomi Baki, a young mother and refugee from South Sudan, shares a unique story of survival, from deep South Sudan to France, crossing Saudi Arabia, Yemen, Syria, Turkey and Greece, where she stayed for almost 10 years. This is a heart-wrenching story of redemption, from bondage (forced conversion into Islam), to freedom and full refugee status (10 years card residency) granted by France.
For historians, woman's right advocate, social activists, and every reader keen to learn a "bigger-than-life" story of Hope in the midst of persecution and misery, this amazing book (link) is a must-have.
Just edited by the French respected publisher Le Cerf (2013), with the much valuable help of Marie Taurand and Sophie Porteil, this book is not yet translated in English. But it will come!
For being lucky enough to know the author, Mrs Baki, let's say she is also a wonderful and convincing speaker, particularly fluent in English (her mother tongue along with Gbaya, her tribal language).