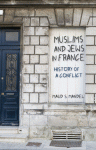 Maud Mandel
is associate professor of Judaic studies and history and director of the Program in Judaic Studies at Brown University.
Her book traces the global, national, and local origins of the conflict between Muslims and Jews in France, challenging the belief that rising anti-Semitism in France is rooted solely in the unfolding crisis in Israel and Palestine. Maud Mandel shows how the conflict in fact emerged from processes internal to French society itself even as it was shaped by affairs elsewhere, particularly in North Africa during the era of decolonization.
To read more, click here (link).