According to the 2020 French media, it seems that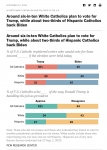 Trump's religious support only comes from White Evangelicals. That's wrong.
While it is not deniable that US white Evangelicals remain Trump's strongest religious ally (with an approval rate around 75%), let's not forget that a strong majority of US White Catholics do support Donald Trump too.
According to the last research released by the Pew Forum on the 15 of sept, 2020, 59% of US White Catholics plan to vote for Trump at the 2020 US presidential elections.
This strong White Catholic support for Trump would probably be even stronger if Joe Biden, Trump's Democrat opponent, was not himself a Catholic.
This reminds us that the battle Biden / Trump is certainly not a Catholic / Protestant battle.
The drawing line has to be placed elsewhere (the "value voter" parameter, and the Christian nationalism parameter).