At the beginning of 2012, a BVA survey among 5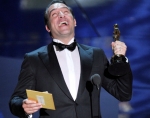 1 countries confirmed that France appear to be World Champion of pessimism: 81% of French fear a year with increasing Economic difficulties.
A recent IFOP survey published by the French daily La Croix confirmed this pessimism.
But should the French be so pessimistic? The triumph of "The Artist", a French movie just winning 5 oscars including a best director Oscar for Michel Hazanavicius and a best actor trophy for Jean Dujardin invites also to say COCORICO (the victory song of the rooster, the French national emblem).