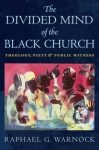 In USA, what we use to define as "Black theology" has emphasized the role of Christian faith in addressing racism and other forms of oppression, arguing that Jesus urged his disciples to seek the freedom of all peoples.
Meanwhile, the so-called "Black church", even when focused on social concerns, has often emphasized personal piety rather than social protest. With the rising influence of white Evangelicalism, biblical fundamentalism, and the prosperity gospel, the divide has become even more pronounced.
In The Divided Mind of the Black Church (2020), Raphael G. Warnock, Senior Pastor of the historic Ebenezer Baptist Church, the spiritual home of the Rev. Dr. Martin Luther King, Jr., helps us to understand the current debates within Black Protestants (mostly Evangelicals) in USA.