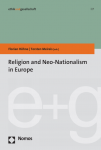 How do religions contribute to contemporary nation-building processes ?
Thanks to Florian Höhne, Torsten Meireis (Ed.), this impressive 2020 book sheds new light on the complex relationships between religion and (neo)nationalism.
The contributions to this volume analyse the complex relations between religious traditions, groups and ideas on the one hand, and (neo-)nationalism on the other. They do so on a conceptual level as well as with regard to concrete contexts and countries. They shed light on these relations from historical, sociological, theological and ethical perspectives, and contribute to the discourse on neo-nationalism, populism and public theology. While the first part of the book situates religion and (neo-)nationalism in a globalised world, the second puts the concepts of neo-nationalism, populism, religion in context. The third part presents different case studies (particularly from European countries), and the final part concludes with ethical and political perspectives.
Please notice that this book includes a significant contribution from Philippe Portier (EPHE, former GSRL director),
Philippe Portier, "Neo-Nationalism and Religion in France" (p.255 - 272).