09/13/2010
BBC page on French laïcité (laicity, secularism)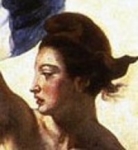 I have recently discovered an interesting BBC page about French laïcité (particuliar French way to deal with Secularism).
Here is the link: BBC page on French Laïcité (secularism).
This page rightly emphasizes the importance of French History:
"Because of past precedent it is very easy for the French to interpret any strong religious views as a direct threat to their freedom and way of life".
Publié dans France: religion and culture | Lien permanent | Commentaires (0) | Tags : laïcité (laicity), secularism, france, bbc |
Facebook | |