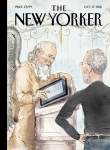 Guess on what device St Peter checks entries in Heaven? If it's an iPad, we have another confirmation of Steve Job's supernatural powers...
The death of Steve Jobs (1955-2011), founder of the Apple Brand and digital genius, has everything to fascinate observers of contemporary religion.
If you are blessed enough to read French, please click here to check out my French-speaking blognote. It you read English only (nobody's perfect), please read Andy Crouch's excellent analysis of Steve Jobs as a secular prophet (Wall Street Journal).