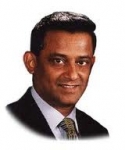 Megachurches are not just a US (or Nigerian, Korean...) phenomenon.
Even Secular France has got some, including Paris Christian Center in La Courneuve (North of Paris), attracting more than 4,000 regular attenders every week.
This is why the sudden and unexpected death of Selvaraj Rajiah, senior pastor of PCC, is a major event in the French protestant news.
The founding pastor of Paris Christian Center (PCC), Selvaraj Rajiah died suddenly of a heart attack on Friday 23 December 2011. Son and grand-son of Indian Pentecostal pastors based in Madras (Chennai, South-East of India), he started his ministry in France around 1983, after intensive training in Denmark (with an additional stay in the USA, at Morris Cerullo's school of ministry).
His current church was started in 1986, along with a Bible school which attracted hundreds of students, contributing to the spread of a new brand of Charismatic christianity, with a stronger emphasis on spiritual warfare and prosperity.
In spite of many trials, including a painful divorce in 1992, Rajiah succeeded in maintaining and developping a very strong community, mixing Health and Wealth Gospel, social work and a very clever use of Digital medias.
His new wife, Dorothee Rajiah, helped him greatly to reframe the church in the 1990s, leading to its current prosperity. Only time will tell if Dorothee, current co-pastor of PCC, will take over and maintain the ministry. From what has been seen in the last years, it appears likely she will, as a very gifted speaker and organizer.
To know more, there is a much longer obituary in French available here.