01/17/2012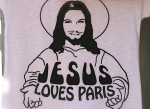 Just a few days ago, I came accross this post from a blogger who discovered this shirt in front of Beaubourg, downtown Paris: "Jesus loves Paris".
After painful research (kidding), I found out that the bold discoverer of this new French hybrid between religion and marketing is Pamela Poole, a witty freelance writer, blogger and translator.
History will tell if this new shirt (currently only available in ONE single shop) will make regular headlines and sell well... Click to continue
Publié dans Current News, France: religion and culture | Lien permanent | Commentaires (5) | Tags : pamela poole, jesus loves paris, marketing, religion, paris, beaubourg |
Facebook | |
01/14/2012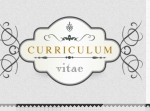 Need of an updated CV ?
There it is ! Before the 2012's end of the world :-)
Download Sebastien Fath's updated CV: S.Fath's short CV (2012)

Publié dans Downloads, S.Fath's CV | Lien permanent | Commentaires (0) | Tags : sébastien fath, cv, 2012 |
Facebook | |
01/01/2012
Publié dans About this blog | Lien permanent | Commentaires (0) | Tags : happy new year, 2012 |
Facebook | |