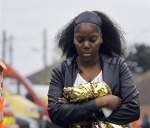 As a scholar working on Evangelicals, what would be my "highlight of the year"?
As far as France is concerned, I choose the huge media attention on "cellar Evangelicals" after a tragic accident that happened in Stains (Paris subburbs) on the 8th of April, 2012 (Easter).
Paris is not only the "city of light". It is also a multicultural metropolis where poverty, unemployment, high property prices and sometimes difficult relations with local authorities mean that minority religion have a hard time finding decent worship places.
For many years, media attention was mainly focused on islam. Scholar Gilles Kepel rightly highlighted a "cellar islam", lacking proper space in French subburbs.
For the first time in France, this 2012 year made the mainstream media withdraw their focus to another religious minority: Evangelicals.
Why? This is largely due to a very dramatic accident.
On the 8th of April, 2012, a floor collapsed during an Easter service in Stains (Paris subburbs). 150 people attended the service, one girl immediatly died, many others were injured.
Here is an abstract of the AFP article which recalled the accident:
"A six-year-old girl was killed and many more worshippers hurt when a floor collapsed in a house hosting an Easter Sunday service for more than 100 people just outside Paris, officials said.
Two men -- the pastor of the group and the building's owner -- were taken into police custody and being investigated for "serious involuntary manslaughter and bodily harm," prosecutors told AFP.
A two-year-old girl and a 42-year-old woman were fighting for their lives after the accident at an improvised venue used by an evangelical church popular with Haitian immigrants.
Emergency services said another 28 people had been less seriously injured when the first floor of the recently built building collapsed".
(Abstract from "French girl dies in Easter church floor collapse", April 8, 2012).
Since the dramatic accident, a 47-year-old woman also died, and more than 30 other people were actually injured in the collapse in Stains, Seine-Saint-Denis, north of Paris (France). These worshippers were mainly French-speaking Haitian, gathering in the first-floor improvised evangelical house of worship on a housing estate.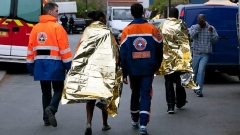 It is estimated that some of those taking part were survivors of the huge 2010 Haiti earthquake in which more than 300,000 died and one million were made homeless.
The fact that the floor gave way on the Easter service gave to the dramatic accident a very large media coverage. FOr many years, some media used to mention once in a while the struggle of many poor Evangelical communities to find decent places. But it never reached headlines.
For the first time, mainstream media gave proper attention to these growing French-speaking Evangelical communities, which often congregate in unhealthy or insecure facilities.
These "cellar Evangelicals", as they are referred to in the French press, invest in cellars, warehouses, and even abandoned factories to worship... to the expense of security.
Addressing the issue is not that easy! First, Church and State are strictly separate in France, preventing authorities from financing any kind of worship space (well, this is the theory...). Second, immigrant Evangelical communities are often too poor to buy available buildings. Third, many immigrant communities do not master French laws and regulations enough, and just don't respect safety rules.
Nevertheless, many French Evangelicals, especially among new multicultural and immigrant churches in the larger Paris area, now trust that the little girl who so tragically died on Easter sunday left a hopeful legacy: increasing awareness on the struggles of "cellar Evangelicals" so other lives will be saved.