12/10/2012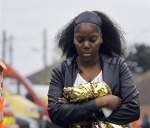 As a scholar working on Evangelicals, what would be my "highlight of the year"?
As far as France is concerned, I choose the huge media attention on "cellar Evangelicals" after a tragic accident that happened in Stains (Paris subburbs) on the 8th of April, 2012 (Easter).
Paris is not only the "city of light". It is also a multicultural metropolis where poverty, unemployment, high property prices and sometimes difficult relations with local authorities mean that minority religion have a hard time finding decent worship places.
For many years, media attention was mainly focused on islam. Scholar Gilles Kepel rightly highlighted a "cellar islam", lacking proper space in French subburbs.
Publié dans France: religion and culture | Lien permanent | Commentaires (0) | Tags : france, evangelicals, paris, cellar evangecalism |
Facebook | |