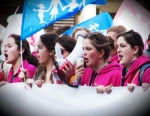 In last sunday's European elections, far-right National Front (FN) party has rattled the French political establishment by making very significant gains in local elections.
France's National Front stormed to victory: 25% (24 seats); Classical right UMP 21%; President Hollande's Socialists got a poor third with less than 14%.
For observers of the French religious scene, these elections have also signed the end of a lasting feature: French Catholic's tendency to boost Europe and to reject far-right National Front.
According to an IFOP survey issued for the daily La Croix, 81% of Catholic regular attenders declared they went to vote (far more than the average French voter). And one out of five voted for the far-right National Front, notoriously opposed to Europe.
Compared to the last 2009 European elections, this rate has been multiplied by five.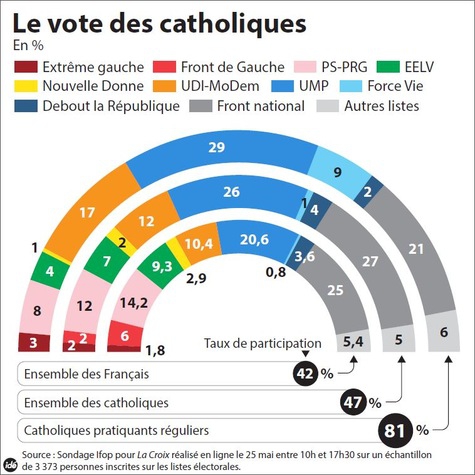 (The National Front -Front National- appears in grey)
Only 4% of regular Catholic attenders did vote for the National Front in 2009, compared to 21% in 2014. This is still a bit less than the French global vote (25%), but let's say that a lasting feature of French catholic vote seems to go to an end: the tendency to refuse far-right vote in the name of the Catholic faith is no more obvious.
The question is, WHY?
The current difficulties faced by the main Right-wing party (UMP) may explain a little bit. But the most significant reason is to be found in the French Socialist Party's choice to emphasize family reforms instead of structural economic or State reforms.
In a nutshell: the huge gay marriage legal battle and the growing tax pressure on working families has alienated millions of Catholics from the current government's politics, and increased anger and dissent.
As the French use to say, this was "pain béni" (holy bread) for the far-right National Front (FN), capitalizing on the huge impopularity of François Hollande's policies.