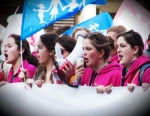 In last sunday's European elections, far-right National Front (FN) party has rattled the French political establishment by making very significant gains in local elections.
France's National Front stormed to victory: 25% (24 seats); Classical right UMP 21%; President Hollande's Socialists got a poor third with less than 14%.
For observers of the French religious scene, these elections have also signed the end of a lasting feature: French Catholic's tendency to boost Europe and to reject far-right National Front.