04/12/2020
Is Europe christian ?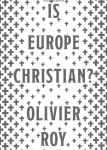 As Europe wrangles over questions of national identity, nativism and immigration, Olivier Roy interrogates the place of Christianity, foundation of Western identity. Do secularism and Islam really pose threats to the continent's 'Christian values'? What will be the fate of Christianity in Europe?
Whatever we may think of Olivier Roy's sometimes hasardeous prognosis on the so-called decline of radical islam, his books are always stimulating and this good one, translated by Cynthia Schoch, is no exception.
Publié dans Articles & Books, Evangelicals Charismatics Pentecostals, Globalization | Lien permanent | Commentaires (0) | Tags : olivier roy, religion, book, europe, cynthia schoch, hurst |
Facebook | |