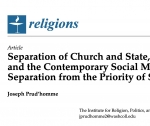 Joseph Prud'homme (Ph.D. Princeton) is the Burton Family Chair in Religion, Politics, and Culture and the Director of the Institute for Religion, Politics, and Culture at Washington College in Chestertown, MD, USA.
He just released a very interesting piece of research, "Separation of Church and State, American Exceptionalism, and the Contemporary Social Moment: Viewing Church–State Separation from the Priority of Slavery"
His main point is this :
"One deeply rooted assumption in American culture is the superiority of church–state separation to alternative church–state arrangements. However, by looking at a comparative history of the United Kingdom and the antebellum South, we can see that a church–state union defined by the authority of the state to incorporate changes in religious understanding, the incorporation of religious principles into the nation's civil law, and the identification of normative nationality with adherence to a specific religious moral discipline can exercise a powerfully liberating effect. In contrast, an ethos of church–state separation can allow moral harms to fester free from an internal critique born of the indictment that the practices contradict core aspects of a nation's law and identity".
In spite of its stimulating angle and solid research, I do not think that a valid fact-checking comparison may endorse this point.
The reason is that the comparison process lies on too shaky ground.
To make it really work, the comparison should have been done between two American countries both heavily impacted by slavery on their own soil: USA and Brazil. Comparing USA with UK does not make much sense, and does demonstrate nothing.
Through a methodogically valid comparison however (USA and Brazil), conclusions can then be drawn: I'm afraid they will go to the opposite direction of what is assumed in Joseph Prud'homme paper:
While Brazil did not separate the Catholic Church from the State before 1891, it was very slow also in abolishing slavery (done in 1888). In comparison, USA, with a strict Church-State separation, abolished slavery in 1865, 23 years before Brazil.