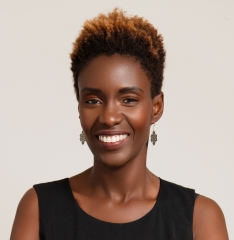 Bright French author of many books, Washington Post monthly columnist and powerful anti-racism activist, award-winning filmmaker Rokhaya Diallo is one of the major French figures of the new intellectual generation.
Tired to still face the same gap between the so-called "universalist" French republican values and the reality of remaining discriminations, she is one of the leading advocates of social and cultural mixity and tolerance.
She's fighting for an applied version of Human Rights at all levels of French society. In a nutshell, she does not want to be payed with words, and is pleading for day-to-day translation of the French motto "Liberty, Equality, Fraternity".
Particularly sharp, smart and vocal, she does not try to "fit-in". She refuses to conform to stereotypes or predetermined roles, and addresses inequalities and discriminations with a restless and convincing passion. Many, within the French establishment, do fight her, and even hate her, because of that. Instead of checking their wrongs, they accuse her of reverse racism. Nonsense !
They actually can't forgive her for her bold demonstration of some French hypocrisies.
However, many others (including me) do support her great contribution to a better XXIth French society. Does this mean that Rokhaya DIallo is always right? Of course not. But she is today France's best ambassador for more equal opportunities and less patronizing neocolonial discourses on minorities.
If the weakened French Republic really pretends to rebuild a better future, it needs more of Rokhaya Diallo, not less. She is a rainbow in France's cloud.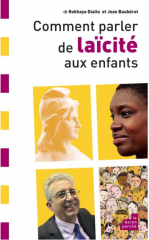 Author of a book on French Laïcité (laicity), with my colleague Jean Bauberot (founder of the GSRL research team which I have been honored to lead in 2019 and 2020 as a director), Rokhaya Diallo has been recently welcomed by the Georgetown University Gender+ Justice Initiative as an inaugural Researcher in Residence for 2021-2023.
Congratulations to her and best wishes!
No doubt many fruits will come out from this collaboration.