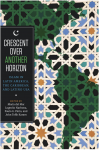 Muslims have been shaping the Americas and the Caribbean for more than five hundred years, yet this interplay is frequently overlooked or misconstrued. Brimming with revelations that synthesize area and ethnic studies, Crescent over Another Horizon offers a great Latino American perspective on a wider Islamic world.
Already published in 2015, it is now available in ebook format.
This excellent volume includes a chapter on Martinique written by French scholar Liliane Kuczynski (with also elements on Evangelicals, as part of the religious diversification of the isle).