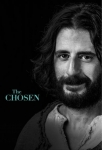 "The Chosen" is the first-ever multi-season TV show about the life of Jesus. Three years after its premiere episode, the series now hits television screens for the first time across France airing on one of this country's top TV channels.
"To be on a major network is a first," said Katherine Warnock, one of the show's producers. "We love our platform, we love having a free app that's available to the whole world, but to be embraced by Canal + has been such an honor."
Read how the Christian TV network CBN, based in USA, has reported about the launching of THE CHOSEN in France for Christmas 2021 (C8 Channel, national TV, dubbed in French language).