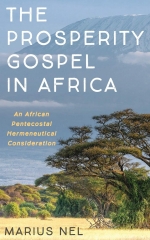 Marius Nel holds the research chair regarding Pentecostalism and Neo-Pentecostalism at North-West University in Potchefstroom, South Africa.
In this scholarly book, written from a pentecostal perspective, the author provides useful insights about the African roots of Prosperity Gospel, which till recently has been far too much related only to US influence.
"Africans' prevailing interest in the prosperity gospel is not only connected to the influence of American prosperity teachers reaching a worldwide audience through their imaginative use of the media, but is also related to the African worldview and African traditional religion, and its lasting influence on contemporary Africans and the way they think about prosperity, as well as their interest in prosperity in post-colonial Africa".