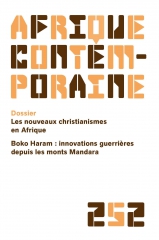 Edited by the Agence Française de Développement (French Development Agency), the quarterly journal Afrique Contemporaine makes available the analyses and opinions of researchers and specialists on the evolution of the African continent with a view towards sustainable development.
It has been an honour for me to lead a special issue, with my colleague Dr Cedric Mayrargue, about NEW CHRISTIANITIES in Africa (mostly Evangelicals).
This edition (n°252) has been released in July 2015, whith a rich content (related to Congo, South Sudan, Ivory Coast, Ethiopia etc.).