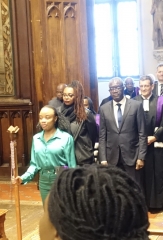 Warmest congratulations to Dr Coyault, dean of the Protestant Faculty of Brussels and director of the CARES (a research center already presented in this blog) and to his team.
The conference about Afropean condition organized in Brussels on the 19th and 20th of october 2022 has been a tremendous success.
Among the guests, Dr Denis Mukwege, Peace Nobel Prize 2018, and outstanding writer Leonora Miano.
Both received an honorary doctorate. Both gave very powerful speeches.
It was such an honor to attend !