11/01/2012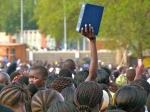 I just come back from an amazing week in JUBA (South Sudan), where I went to survey, as a French scholar, a huge Christian event organized by Rev Franklin Graham.
At the HOPE FOR A NEW NATION Festival I've been to, there were apparently up to 94,000 attenders in 2 days. Amazing!
For those who speak French, there are more details in my French-speaking blog, and also in this other one devoted to promote friendship between France and South Sudan. See also my Flickr album here.
Publié dans Current News, Evangelicals Charismatics Pentecostals | Lien permanent | Commentaires (0) | Tags : south sudan, juba, hope for a new nation, franklin graham, evangelicals |
Facebook | |