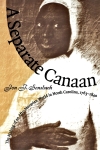 Why so many postcolonial churches today? One reason may be that the "universalism of the Gospel" taught by Europeans did not always translate/lead into a redefinition of social, economic, status boundaries.
Result: enslaved or colonized people remained both "connected and separated by the Christian faith".
A "separate Canaan"....
Without challenging systemic injustice and economic exploitation.
To bring light on this issue from a Colonial North-American perspective, let's remind this brilliant book published in 1998 by John Sensbach:
"Based on German church documents, including dozens of rare biographies of black Moravians, A Separate Canaan is the first full-length study of contact between people of German and African descent in early America. Exploring the fluidity of race in Revolutionary era America, it highlights the struggle of African Americans to secure their fragile place in a culture unwilling to give them full human rights. In the early nineteenth century, white Moravians forsook their spiritual inclusiveness, installing blacks in a separate church. Just as white Americans throughout the new republic rejected African American equality, the Moravian story illustrates the power of slavery and race to overwhelm other ideals".