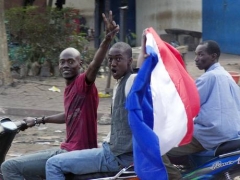 Many different streams have built up the French left-wing tradition, including a growing trend in favour of multiculturalism, and a lasting pro-palestinian stance.
No wonder if according to polls, about 9 out of 10 French muslims voted for François Hollande (former leader of the Socialist Party) at the last presidential elections (2012).
However, it would be a mistake to conclude that the current French authorities play "soft on radical islam" and jihadists.
All the contrary! (click here to continue)