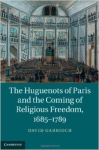 "How did the Huguenots of Paris survive, and even prosper, in the eighteenth century when the majority Catholic population was notorious for its hostility to Protestantism? Why, by the end of the Old Regime, did public opinion overwhelmingly favour giving Huguenots greater rights? This study of the growth of religious toleration in Paris traces the specific history of the Huguenots after Louis XIV revoked the Edict of Nantes in 1685."
Let's thank Professor David Garrioch for this new synthesis:
The Huguenots of Paris and the Coming of Religious Freedom, 1685-1789 (Cambridge, 2014).