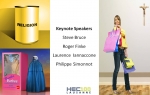 Let's mention a very exciting Conference about religions and brands.
In my 2008 book devoted to the study of megachurches, I had noticed that branding strategies could interfere with religious motives, especially in some big megachurches.
This Lausanne Conference, held from the 13th to the 15th of October, 2011, will put some fresh light on this questions. The title of the Conference is : "Religions as Brands – The Marketizalisation of Religion and Spirituality". It will include some remarkable speakers as Steve Bruce, Laurence Iannacocone, Philippe Simmonot and Roger Finke.