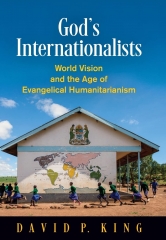 As the amount of research on Christian Nationalism is growing rapidly (for good reasons), let's not forget that Evangelicalism per se can't be simply coined as a whole as "nationalist". A very robust internationalist and transnational trend can be noticed all over its contemporary history, including on the US ground.
Time to remind readers of this highly valuable piece of research published by David P. King in 2019 on one of the World's biggest humanitarian NGO today : World Vision.
"Chronicling the evolution of World Vision's practices, theology, rhetoric, and organizational structure, King demonstrates how the organization rearticulated and retained its Christian identity even as it expanded beyond a narrow American evangelical subculture".