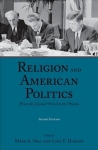 In French, we describe a cliche or an extremely common topic as a «tarte à la crème» (cream pie). Sweet and familiar taste but difficult to digest.
In this regard, «Religion and Politics in America» is a typical «tarte à la crème». A very good (and important) topic, but hard to digest. Too many books, too many opinions, too many passions.
This particular book, however, deserves to be savoured more than others.
Originally published in 1990 as Religion and American Politics: From The Colonial Period to the 1980s (4921 paperback copies sold), this book from OXFORD UNIVERSITY PRESS offers the first comprehensive survey of the relationship between religion and politics in America.
In this brand new 2007 edition (502 pages), Mark Noll and new co-editor Luke Harlow offer a completely new introduction. They also include several new pieces and eliminate some others that are now out of date. Amongst the new additions, you'll discover an article I wrote about George W. Bush Jr and Civil Religion (S.Fath, p.393-400).

Here is an extract from the conclusion of my article :

« When observing the mutations of the American super-power since 2001, many commentators have leapt to emphasize religious faith. That emphasis seems true and false at the same time. Above all, the pragmatism of the White House, given expression in a pluralistic society, invalidates the hypothesis that American power is held hostage by a missionary-minded belief in God. It is also obvious that influence from denominational or religious lobbies does not determine the essential political agenda of the United States»...

(short comment : this is particularly hard to believe for the French public, mostly persuaded that G.W.Bush Jr is a kind of new Christian crusader…) Extract continues :

...« But it is not wrong to see religious faith as very important, if one understands civil religion as explaining a substitution at the heart of the ideological legitimization of American society. My main argument involves the transition of this civil religion, now substantially decoupled from traditional Christian anchorage. This new phase—and therefore an uncertain phase--has been marked by a substitution: of Uncle Sam's armed force for the Christian messiah. The transcendent utopia of the Kingdom of God has been secularized into a finite model, contemporary American society itself. »

If you want to know more about my arguments, and above all, if you want to get a wide overview of Religion and Politics in America today, please buy the book! I'd be also most interested by your comments, so please feel free to send one!

Last but not least, if you want more good "tarte à la crème", please visit this interesting blog : Religion in American History.