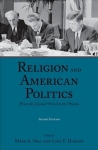 In French, we describe a cliche or an extremely common topic as a «tarte à la crème» (cream pie). Sweet and familiar taste but difficult to digest.
In this regard, «Religion and Politics in America» is a typical «tarte à la crème». A very good (and important) topic, but hard to digest. Too many books, too many opinions, too many passions.
This particular book, however, deserves to be savoured more than others.