Our French President has recently drawn criticism after one of his speeches during his visit to the Vatican.
In front of the highest Roman Catholic Clergy, he emphasized the importance of the French "christian roots" (mainly Catholic), while he also pleaded for a "positive" version of "laïcité" (laicity, sometimes translated by secularism).
But many French (including myself) thought that Nicolas Sarkozy went a bit too far.
OK to aknowledge the importance of Faith, OK to highlight of the great French catholic heritage... But France today is multicultural, multireligious.... and mostly secular.
Why this Godtalk then ? Why did he deeply emphasized the French great Catholic root, without a word for the heavy heritage of Catholic discrimination and persecution against Protestants, Jews, and Free-thinkers before 1789 (French Revolution)?
And why did Nicolas Sarkozy completely forget the Enlightenment heritage as well?
The US way to cement the social, religious and cultural diversity is Civil Religion. The French way is "Laïcité". Many French believe that laïcité (laicity) might be fragilized if Nicolas Sarkozy remains on his current line.
But what do the French mean by that? Here are a few words of explanation.

What is "laïcité" (laicity) ?
Almost all French citizens believe today that the further the State is from religions, the better off it is. This idea was not widely accepted around 1905, when the Churches were seperated from the State.
But since then, this principle of separation has won the hearts and minds, around the notion of laïcité (laicity), a key word to understand today's French mindset, and the reasons why many did not particularly like Sarkozy's recent speech in Vatican.
The French are very proud of this concept of laicity (wrongly translated by secularism) and they like to think of it as their property (however other countries also practice it).
What does "Laïcité" mean ?
Laicity implies that the State holds a neutral position in religious matters and offers no support to any religion in particular. Well, this is far from revolutionary isn't it? This principle was practiced in the US more than one century before its lasting introduction in France. But there is more. This principle of laicity also means that all religions are equal before the law.
Freedom of conscience and religion must be total with respect to the rights of individuals. Once again, this is far from specific to France. So let's move further.
Freedom of conscience and freedom of thought
According to many specialists (like Jean Baubérot or Claude Nicolet), laicity also attempts to conciliate "freedom of conscience" (everyone has the right to believe what he chooses) and "freedom of thought". This is extremely important.
What does this "freedom of thought" mean exactly? It means that the State, through its' public schools, intends to foster emancipation by giving each citizen the opportunity to learn to think freely without being locked in the ideas of his native social group. Public school must allow each individual to be confronted to different systems of thought, different cultural references so that he can make choices more freely.

In some ways this "freedom of thought" scares the American public because it seems to give the State too much importance. Big Brother'shadow? In the US tradition, freedom of conscience is more emphasized than freedom of thought.
But in France, although freedom of conscience is important, freedom of thought is essential. This must be understood within a specific historical context.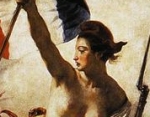 The State as an emancipator
The emphasis on "freedom of thought" can be explained by the fact that France, unlike the United States, was submitted for a very long time to the religious and cultural monopoly of the Catholic Church, the bulwark of the monarchy.
When the Republic settled into place durably, it had to fight hard this Catholic monopoly and educate the population to pluralism and a new democratic culture. Thus, the modern Republican State chose to take on the role of an emancipator, helping citizen to widen their views.
Since then, most of the French believe that religious views are on the side of particularism, while Republican "laïcité" (laicity) is on the side of universality.
Which explains why Nicolas Sarkozy's speech in Vatican did not meet strong approvals in our secular country, proud of its laicity.