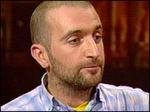 I recently wrote in my French-speaking blog that our president, Nicolas Sarkozy, should not ignore the fact that the worldwide language is now GLOBISH. Which means : global English.
I criticized the fact that our president thought it would be useless to broadcast a French TV satellite channel in English. I stand in my positions. However, there is another side of the debate.
Global citizens should not ignore as well that GLOBISH is not the only language!
Mark Boyle learned it the hard way. This sympathetic 28 years old idealist set out five weeks ago with only T-shirts, a bandage and sandals.
Not everyone in our world does speak Globish
This British backpacker, joined by two friends, hoped to rely on the kindness of strangers for food and lodging.
Guess what happened… Well, as soon as he came to France (town of Calais), he realized that not everyone in our world does speak GLOBISH.

« Sacrebleu », he had to learn French if he wanted to survive! Too much really.
Our poor Peace-pilgrim had to go back home, and consider starting learning French, before relaunching his idealistic journey from the UK to India via Asterix's stronghold.

Morality : the French should certainly learn more GLOBISH….
But English-speaking pilgrims should remember that many inhabitants of the Earth speak only their home-tongue... or speak other languages as well..., but without necessarily speaking Globish.
Everyone has to make an effort, «n'est-ce-pas» ?

To read Mark Boyle's blog, click here