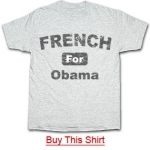 What a landslide! Barack Obama could not have been more clearly elected on this 4th of November, 2008!
Even if around 90% of the French would have voted for him if they could have done so, make no mistake!!!
This is baaaaad news for many of my people...
With G.W. Bush as a US president, it was increasingly easy for us to feel superior...
With Barack Obama as the new 44th president of the United States of America, this will be a very different story.

OK, Barack Obama is not a new messiah who will solve everything. Far from that!
However, with such a charismatic, young and brilliant new president, America will look very attractive again.
Too bad for some grumpy French?
On the other hand, what a fantastic boost!
Towards reforms, towards new hopes, towards more diversity in rusty French politics.
Anyways, if you're American and if you read this blog, please accept my deepest congratulations for writing such an amazing new page of US History.
YES YOU CAN. Bravo!