In a book published in 2004, I highlighted the fact that many French people just happen to see Black faces on the TV because of…. American movies.
Unfortunatly, this is still largely true today.
It is a fact that France, auto-labelled «Human Right's country», is far from being auto immune from racism and discrimination.
A survey by the TNS-Sofres polling agency released in January 2008 stated that 61% of Blacks living in France say they have experienced at least one racist incident within the past year. Although the methodology of the survey may not be totally satisfying, this data seems to confirm that racism is not simply a slogan used by right-wing liberals: it is a social fact!

Discrimination without knowing it
Racism is, however, far from widespread. The biggest issue in contemporary France is not racism: it is blind discrimination.
Which means: discrimination without even knowing it or willing it.

Lots of reasons lead to discrimination. Ethnic discrimination (based on the origin or the color of the skin) exists indeed. If it is most often put forward, it is because its consequences can have devastating effects.
But there are many other types of discrimination such as those linked to age, sex, handicap or religion. According to a large international survey released in 2006, the main discrimination, that which seems to be most widely noticed in 28 countries, is that caused by age.

However, 'visible minorities', which is the politically-correct way to describe non-white people, do particularly suffer.

CSA 2008 Survey on diversity

The results of a survey conducted by the French CSA (Superior Council of Broadcasting networks) are revealing. This study has been released last month (november 2008).
The study was conducted in February 2008 by Eric Macé, a French sociologist who watched the programs from 16 networks, between 5 am and 12 am.

The results ?
Only 14% of the characters who appear on the French screens are considered as «non White».
Including 8% of «Blacks», 2% of «Arabs», 2% of «Asians». The last survey, which was conducted in 1999, had been analyzed by Alec Hargreaves in this good report : Racism and Cultural Diversity in the Mass Media, EUMC, 2002.
Since this 1999 survey, there is only a 1% improvement. Peanuts…
Only 11% of «non Whites» appear in French TV series, compared to 19% in American series.
Michel Boyon, current president of the CSA, described these results as «afflicting». I'd be slightly less negative, but it's true there is nothing to be proud of.


But what to do?

Let's remind that France rejects affirmative action as incompatible with its republican ideals of color-blind equality for all citizens.
This is really nice in theory, but that is not always working in practice: discrimination continues here and there, even on the TV screens. Color-blindness may even function to keep France blind to racial discrimination and inequality.

Conclusion : France should become less preachy, and deal more pragmatically with empirical discriminations. This does not necessarily means that Affirmative action is the only solution, far from it!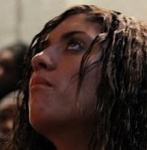 But this means that all political and social actors should work harder on providing equal opportunities for all.

If so many immigrants find in French Evangelical churches a safe haven (see the photo albums on French megachurches), it may be partly related to this situation: they are dissapointed by the gap between generous ideas and a difficult reality.
So they prefer to put their trust in warm religious communities which practice fellowship and solidarity, instead of believing rusty political parties or almost «White-only» media.