03/09/2011
French, Most Useful Second Language ?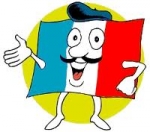 Watching the French media, one of the many things that puzzles me during the current Arabic revolutions (from Tunisia to Egypt) is that in spite of the French decline, French language is still used by many (even by some in Lybia).
Why? Many strong historical reasons explain that. But there are also some more pragmatic reasons. I just found a quite well-documented article (published online in 2008) which explains pretty well why French language might remain "the most useful Second Language for English speakers".
Publié dans France: religion and culture, Globalization | Lien permanent | Commentaires (1) | Tags : france, french language, arabic revolutions, globalization |
Facebook | |