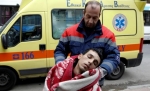 Immigration becomes more and more controversial in aging Europe.
Even France, often self-described as "the hotbed of Human Rights" (French Revolution, blablabla), is currently facing the growth of extreme right wing party (with Marine le Pen, credited with 20% of vote intentions!).
Often described as a threat, migrants' rights are more and more at risk.
How do Civil societies react ? Including churches ?
There is no single pattern. And the way European countries treat migrants differs widely as well (we might here explain the French situation in a note coming soon).
One of the worst cases, if not THE worst, is currently Greece.
Please click below to read the interview of Dorothee Vakalis, Evangelical pastor in Thessaloniki.
This interview is putting a grim light on the nasty way the Greek government currently deals with migrants, as it is revealing also in terms of Civil society reaction.
In this case, Evangelicals (at least some) seem committed to help migrants, distancing themselves from xenophobia.
Could it be one of the reasons why many migrants find shelter in European Evangelical churches? Probably.
Cliquer : 300 immigrants fighting for lives in hunger strike
To download in PDF : 300 immigrants fighting for lives in hunger strike - Street News Service.pdf