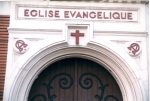 As migrants flow in increasing numbers in "old Europe", changing forever social and cultural landscapes, more and more studies are currently undergone about new multicultural and immigrant churches.
Although all Christian traditions are impacted by immigration, Evangelicalism is at the frontline, as warm, grassroot and zealous Evangelical congregations appear more attractive to migrants than other more traditional religious forms.
In the Parisian area alone, thanks to Sarah Demart's Ph.d on Congolese Charismatic churches, it is estimated that the Congolese diaspora claims up to 400 pastors. Hundreds of churches and communities have been created in France in the past few years for and by migrants, mainly from Africa (but also China, India, South Korea or Vietnam).
Many surveys are currently undergone in order to discover these new religious actors. However, religious change due to immigration does not only translate into new immigrant communities. It does also produce deep changes in old communities, going from a white-only constituency to rainbow colours.
How to evaluate these changes within existing parishes and local churches? Very few studies have been done yet. Comparatively to immigrant communities, this field still remains neglected by researchers.
This is why I have decided to conduct a sociological study on the Baptist church of 123, Avenue du Maine, located downtown Paris. Based upon a survey and interviews, it was undergone two years ago (May, 2009). I just had the priviledge to share my results at a conference organized in Toulouse (South of France) by the GEIPE, a French-speaking network devoted to the study of Evangelicalism (link here).
Here is a short summary of my findings.
A Parisian Baptist "hub"
This Parisian French-speaking Baptist church started at the end of the XIXth Century, with the 1899 inauguration of its current chapel. Contrarily to the US, Baptists in France are a tiny group (around 40,000 to 45,000 people today), clustered in the Protestant minority (which amounts to 3 or 4% of the global French population). The start of this new congregation was made possible by decades of painful witness in a difficult context (first French Baptists appeared in 1820).
Since its inauguration in 1899, the "123, Avenue du Maine" church has always remained a "hub" for French Baptists. The reasons for this are quite simple: compared to most small French Baptist churches, this one could claim, from the very beginning, a quite robust constituency (rapidly reaching more than 200 active members).
And most of all, it was located donwtown Paris, the prestigious French capital, near to all main French religious and political institutions.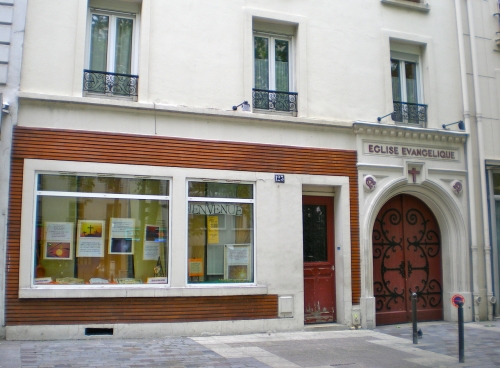 Today's Avenue du Maine Baptist Church in Paris
No wonder then if four of its pastors (Philémon Vincent, Henri Vincent, André Thobois and Henri Frantz) have also been in charge of the French Baptist Federation (the FEEBF), which is the main French Baptist network. This tells a lot about the centrality of this local Parisian church, based upon a 100% French and white constituency. 110 years after its start, the location remains the same. The denomination remains the same. Even the prestige remains the same.
A 80% Afro-caribbean church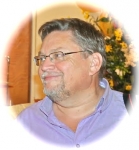 But something has change. The 100% white Evangelical church has turned into a 80% Afro-caribbean church. However, the current pastor, Richard Gelin (see pictured left), remains white, European type. Although very open to address the challenges of cultural diversity, he was not ready to face such a constituency when he took the post.
On sunday morning, most of the seats, formerly 100% filled with white French attenders, are filled with believers with African or Carribean origins. Migrants from French-speaking Africa (Congo, Ivory Coast), Haïti, along with many people with a French Caribbean background (isles of Martinique and Guadeloupe) have slowly changed the identity of the congregation.
Our 2009 survey reveals also that a very large majority of followers value the emphasis on cultural diversity.
Cultural diversity is seen as positive (36%) or even excellent (60%). A large majority also think that their community is doing well in respecting diverse cultures, and is even ahead of society (59%).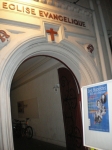 Hidden realities
But a closer look reveals other hidden realities. The main finding highlights the fact that a bigger than average rate of white French believers (41%) tend to favour a diversity-blind option. They just think that their community should not pay much attention to cultural diversity.
On the other hand, a smaller than average rate of African believers (24%) thinks the same. Conclusion: in an old Parisian congregation such as this one, the more white and European, the blinder to cultural diversity...
This finding is confirmed by interviews, which show that beyond a bright picture of an open and diverse congregation, hidden tensions arise, with a French white minority which feels a little bit threatened by new ways, and an African constituency wich appear a little bit frustrated by what is perceived as a difficult recognition of their cultural distinctives.
In the "123, Avenue du Maine" case, this difficult recognition is empirically confirmed by the fact that in spite of Richard Gelin's genuine efforts, the French Baptist Federation itself remains very cautious in dealing with the social and cultural changes within the community.
Priority to a white pastor
In two occasions, in 1987-88 and in 2005-06, the congregation could have chosen a Black pastor (first, a pastor from Haiti, second, a pastor from the French Caribbeans). But each time, French Baptist officials managed to avoid this scenario, waiting to find a proper white candidate (Henri Frantz first, Richard Gelin second).
No written source is there to document this "behind the scene" strategy. But several witnesses, including the current pastor himself, Richard Gélin, confirm it. The reason is not open racism (interracial relationships are widespread in French Baptist circles). However, it seems that the goal was that a "flagship" of the French Baptist landscape, the prestigious Parisian community of Avenue du Maine, had to remain symbolically led by a white French pastor.
Is it because a Black French pastor might have undermined the status of the church? Let's leave the question open.
Claiming better seats
One cannot help but think that this kind of tension is not specific to that particular parisian community. In thousands of places, the trend is there: white Europeans are invited to share seats, practices and new ways with growing numbers of migrants from diverse origins.
And these migrants are less and less keen to accept uncomfortable backseats!