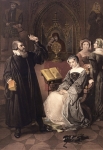 Female religious leadership in Protestant churches is trendy. However, things don't always go smooth.
The Protestant landscape displays very contrasting trends.
If we consider the British isles, situations vary enormously.
Just to take an example, England is way ahead Scotland in terms of Female access to Pastoral leadership.
How come ? Let's consider the Baptist case. The first English Baptist female minister was ordained in 1918.
In Scotland, the same happened in..... 2009 !!!!
The Scottish Kirk (the main Presbyterian body in Scotland) did no much better. The main Presbyterian Church in Scotland ordained its first female minister in..... 1969 (40 years after France. Madeleine Blocher Saillens was ordained as a Baptist minister in Paris as early as in 1929).
Why is it like this ? Why SCOTLAND, whose History is so full of Freedom fighters, is so way behind England, France and many countries in terms of female religious leadership ?
One BIG reason may be rooted in far history.
Actually, John Knox (1514-1572), a huge towering figure in Scotland's religious history, played a pivotal role in the implementation of Protestant Reformation in Scotland.
And he was very much AGAINST any kind of female religious leadership, as this article ot the Scotsman reminds us (link).
Knoxic masculinity ?