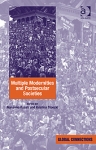 The French like big concepts, with a capital letter, and ONE definition, once for all. Modernity, Liberty, Equality, Republic... Inherited from an Imperial past, a Republican model filled with messianism and a Catholic culture (centralized and absolute), this mindset is still around, but it is less and less prevailing.
Excellent news! Which does not mean we favor a relativist approach, far from that. But a healthy and ballanced thinkink requires that concepts and frameworks should always be put into perspective and into context. One of the scholars who has helped to reach a more nuanced and dewesternized view on Modernity is Schmuel Eisenstadt, who edited in 2002 a very important book on multiple modernities.
Good news: this globalized and dewesternized view on current world changes is reassessed in a new collective research just released by Ashgate. Its title: Multiple modernities and postsecular societies. (click here to continue)
Here are some words of presentation from the publisher:
"Engaging with the idea that the world reveals not one, but many routes to modernity, this volume explores the role of religion in the emergence of multiple forms of modernity, which evolve according to specific cultural conditions and interpretations of the 'modern project'. It draws upon case study material from Africa, The Middle East, Russia and South America to examine the question of whether modernity, democracy and secularism are universalistic concepts or are, on the contrary, unique to Western civilization, whilst considering the relationship of postsecularism to the varied paths of modern development.
Drawing together work from leading social theorists, this critical theoretical contribution to current debates will appeal to sociologists, social theorists and political scientists, with interests in religion, secularization and postsecularization theory and transitions to modernity in the contemporary globalized world".
This book is Edited by Massimo Rosati, University of Rome Tor Vergata, Italy and Kristina Stoeckl, University of Vienna, Austria