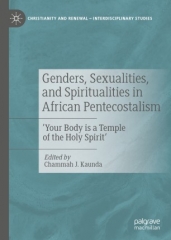 In the last three decades, African Pentecostalism has emerged as one the most visible and profound aspects of religious change on the continent, and is a social force that straddles cultural, economic, and political spheres. Its conventional and selective literal interpretations of the Bible with respect to gender and sexualities are increasingly perceived as exhibiting a strong influence on many aspects of social and public institutions and their moral orientations.
This collection published in Chammah J. Kaunda, Genders, Sexualities, and Spiritualities in African Pentecostalism, Palgrave, 2020, features articles which examine sexualities and genders in African Pentecostalism using interdisciplinary methodological and theoretical approaches grounded within traditional African thought systems, with the goal of enabling a broader understanding of Pentecostalism and sexualities in Africa.
As usual in English-speaking synthesis, French-speaking Africa is rarely mentioned, except a chapter devoted to Congo.