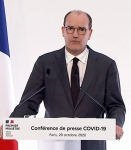 Among French religious circles, many are currently debating about the way Jean Castex (French Prime Minister) and his government are dealing with Covid-19 restrictions. According to President Emmanuel Macron's last announcements, France will begin to ease its strict coronavirus restrictions this weekend, allowing "non-essential shops" to reopen.
French Supermarkets are already widely open, with no resctriction except respecting the mandatory safety precautions. French TGV and trains are also packed with people who share up to 4-5 hours together in a confined environment.
So why not churches and worship places in general ?
There is a good news and a bad news.
-The good news is they will reopen this coming week-end.
-For many, the bad news is the maximum level of 30 people per worship place. Observers thought that the Prime Minister may reconsider this measure. He did not. Therefore, the Catholic Conference of Bishops of France (CEF) declared it was "disappointed and surprised", recalling that it had proposed to the authorities a partial church occupancy of "a third of the usual capacity".
Their point does make sense. The size of a worship place can vary from the equivalent to a garage to the equivalent of a supermarket (cathedrals, megachurches). Imposing a maximum level of 30 attenders without taking into account the size is absurd! French Catholics vocally expressed their disbelief. Muslims, Jews, Bouddhists and Protestants were far more discreet, although some (mostly few Evangelicals) have expressed concern.
"Holding the freedom of worship hostage" ?
This looks like a double standard mindset : no maximum level for supermarkets, maximum level imposed of 30 attenders for churches.... cathedral or small local chapel, no matter what.
Could it be interpreted as a kind of discrimination against religions ?
By the way, while French government imposed these restrictions, worship places are already plainly open in neighbouring countries like Germany or Italy. Not in France.
Could the official French treatment of religion during Covid19 pandemia be interpreted as another sign of this heavy secular framework some discern in French culture ? A kind of intolerant secularism which would seek to reduce religions as a discreet or private matter ? Threatening freedom of worship ? It could be so. "By persisting in refusing to take into account the size of churches and the epidemic situation specific to each territory, Emmanuel Macron is holding the freedom of worship hostage," a French Catholic press release) stated (link).
French universities : a much worse situation
However, let's not forget to put things into wider perspective. At least, French churches will reopen and welcome people this coming week-end. While Universities are not yet allowed to welcome students for campus courses.
To be allowed to host on their campuses all their students again, French universities will have to wait till the beginning of.... februrary 2021.
A harder situation -and longer wait- than the challenge religions are currently facing. These government strict measures for universities provoked strong reactions. Many French university representatives (presidents, professors, student organizations) complained about the government's timetable.
In this strange Covid19 time, religious groups may not be the most contained after all: French universities -also struggling with a lack of funding and erratic public policies- seem to be much less taken into account.
A situation described as a "time bomb". For so many impoverished, isolated and sometimes depressed French students, staying out of University for so long is devastating. At least, before going back physically to campus courses, some of them may resocialize in French religious worship places....