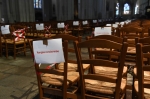 The new suitable gauge for worship services (read blognote of last week) was unveiled yesterday (wednesday 2th of Dec, 2020) by the French Minister of the Interior, Gérald Darmanin. Based upon simple common sense, the new measures take into account the size of religious worship places.
This gauge was settled after consultation with the various French religious representatives, in order to put settle things in a fair and right way.
"In order to reconcile freedom of exercise of worship and sanitary measures, a new presence gauge in religious buildings has been established. It provides, for the organization of ceremonies, to leave two seats free between each person or family entity and to occupy only one row out of two", said the minister in a press release published on Wednesday 2 December.
Notice that the government did not first accept to get the point: the State Council (Conseil d'Etat), guardian of the Law, had to admonish the Prime Minister Jean Castex, giving him three days to treat religions more fairly.
Job done.