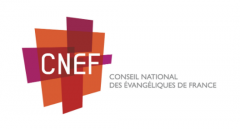 Do you know the CNEF ? In French, it is Conseil National des Evangéliques de France (National Council of French Evangelicals).
Created 10 years ago after merging previous French Evangelical networks, this body represents at least 60% of the One Million French Evangelicals. It just celebrated its 10th Anniversary last tuesday.
From all France, more than 500 connected and registered. The French Interior Minister, Mr Gerald Darmanin, whished a "happy birthday" to all, through a taped video message.
After ten years, results are there. Regional Centers for Church Planters (CFRI in French) have been created, legal information tools about religious freedom in a secular society have been realized and dispatched. Regional CNEF branches have been created in continental France but also the French Caribbeans, and a CNEF chaplain service to parliamentarians (French National Assembly and Senate) has been created. Last but not least, significant mass evangelization initiatives have been conducted, especially during the 2017 year (500th anniversary of Protestant Reformation).
In the long course of French Evangelical History (starting around the French Revolution), this relatively new network may mark a turning point. It reveals the changing face of French protestantism, still attached to the old French Protestant Federation -FPF (born in 1905)-. As Evangelicals grow more and more, the need of network reshaping gave birth to CNEF. What's next ? Up to now, FPF and CNEF play mostly a complementary role. Several French denominations even belong to both. Time will tell where the current trends will lead to.