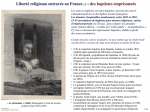 As you already know, I did study French Baptist history for my Ph.D (defended in Sorbonne EPHE in 1998). I've decided to review (and improve) two old Powerpoint presentations.
The first one is historical and chronological. It explains the four steps of French Baptist implantation, from 1800s to 1950s.
The second one is a thematic presentation, using both sociology and history, in order to highlight the social distinctives of Baptist churches (and individuals) in French society.
These two slideshows are in French. They may require some effort to be read and understood but the effort is worth it!
The first slideshow can be seen here : Link to historical slides
The second slideshow can be seen here : Link to thematic slides