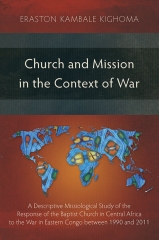 Langham is one ot the major publishers providing today fresh quality content from skilled African authors.
Social science researchers would greatly benefit from paying closer attention to the many good books released each year, including this one: written by Eraston Kambale Kighoma from a Christian scholarly point of view, this missiology study is worth reading.
It provides a deep insight into the way Baptist churches in Congo dealt with the war in Eastern Congo between 1990 and 2011.