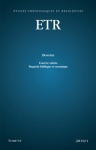 The French website CAIRN is an amazing ressource, including an international edition which allows many scholars to have an insight into top-level publications in french.
Here is an example with Patrick Cabanel's article about Non-violence in French Protestantism during World War One.
"French protestants played a part in the emergence of radical pacifism and non-violence during the First World War. The values and actions of Bertin Aguillon and Jules-Philippe Guiton, two young methodist ministers who died in 1914 and 1917, are well documented, the latter having kept a diary that has recently been published. This is not the case of Cévenol Roux and the Berthalon du Dauphiné brothers who, for many years, took refuge in the mountains. (...) Patrick Cabanel suggests opening this chapter on protestant radical pacifism, between history and literature."