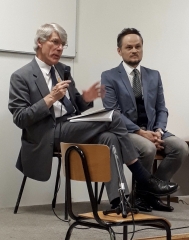 Professor David W. Bebbington (University of Stirling, Scotland, UK) is widely known as one of the World's best experts on Evangelicalism. It was a priviledge to see him visiting France for two brilliant lectures given in Paris (IBN on the 16th of Feb, Rue de Lille Baptist Church on the 17th of Feb). There is more to read in my French-speaking blog (link).
This album (link) opens a few windows on this landmark visit.
As a particlarly remarkable historian, but also as a person, David W. Bebbington is a towering and inspirational figure to many scholars devoted to the study of Evangelical History, including myself.
I've started to interact and meet with David W. Bebbington since 2000 (Wake Forest University, USA). David W. Bebbington's visit to France in 2018 gave me the occasion to go back to some of these older memories (see the first 8 pics of the album). Link